Simple and very nice way to include a picture, and program information for your loved ones funeral services.
View Samples
The bifold program allows a little more space for another photograph or two, while giving enough room for a full bio and program layout.
View Samples
Our trifold program is the best way to display several of your favorite photos. Including a place for a cover photo, inside center, flap and backside photos and even a list of posterity.
View Samples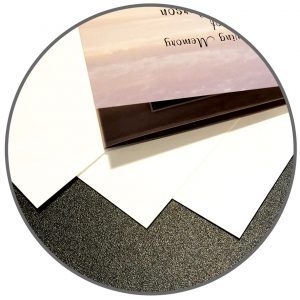 Only the Best Will Do
Program Paper Quality
We use a high quality Gloss Paper. While most programs you've seen are typically printed on regular printer paper, we prefer to use a higher quality. All our programs are printed on thick glossy paper, minimizing the chances of wrinkling or tearing. Because we print on a gloss sheet you can rest assured that your loved ones photos will be sharp, crisp and clear.